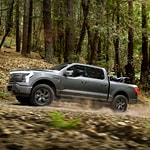 An Introduction to the New Ford F-150

The Ford F-150 is a light-duty pickup truck that is now more rugged and more capable than ever before. The tough new Ford F-150 can be purchased in any one of eight trim levels. There are also a variety of cab sizes and truck bed lengths that are offered for the new F-150 lineup.

Maximum Towing

When it is equipped with its twin-turbocharged 3.5-liter V6 engine, the new Ford F-150 can tow up to 14,000 pounds. The F-150 can be equipped with a range of technologies that make towing with the truck easier. Smart Trailer Tow Connector, for example, provides alerts to drivers about the condition of their trailers.

Raptor 37 Performance Package

The popular Ford F-150 Raptor, while already highly-capable in its standard configuration, can be equipped with the new Raptor 37 Performance Package. The package equips the F-150 Raptor with 37-inch all-terrain tires, bead-lock capable wheels, and Recaro front seats.