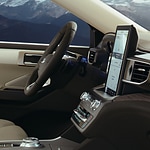 Just like you, our Hawkeye Ford team members have a shopping list of standard features we look for in an SUV. We love space, comfortable seating and a bunch of tech and safety. The Ford Explorer does not disappoint. Take a look.
Intelligent Adaptive Cruise Control
Complete your daily journeys at your own pace thanks to Intelligent Adaptive Cruise Control. This feature allows the Ford Explorer to maintain preset speeds and safe following gaps in busy traffic. It also includes a corresponding Lane Centering feature that scans lane markings and helps the Ford Explorer remain centered in its lane.
Private, VIP Mobile Hotspot
Thanks to the Ford Explorer's embedded modem, the FordPass Connect, the Ford Explorer treats vehicle occupants to a private in-vehicle hotspot. The hotspot derives power from AT&T's dynamic national network, with 4G LTE speeds for up to 10 devices within 50 feet of the embedded modem. Surf or stream on the go, confident that you'll always have a strong signal even in remote locations outside Red Oak.