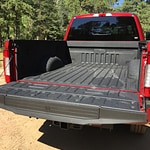 Hawkeye Ford Inc. sells the popular Ford Super Duty pickup truck. If you're looking for a dependable, heavy-duty vehicle, you'll benefit from buying a Super Duty. You'll learn why the Super Duty is popular in this blog post.
A Tough Body
Aluminum is the base material that makes the Super Duty tough. The aluminum is military-grade, so it's much stronger than regular alloy. The big benefit is that the high-strength aluminum doesn't weigh the truck down since the alloys are very light. As a result, you can operate a Super Duty conveniently in rugged environments without worrying about damaging the aluminum base because it doesn't rust, dent, or ding easily.
A Dense Frame
The Ford Fusion's frame is constructed out of a high-strength steel slab. There are nearly 10 cross members incorporated in the design, and this design aspect makes the base extremely stiff. The Ford team built the frame this way to reduce twisting and turning while increasing torsional rigidity, strength and stability.