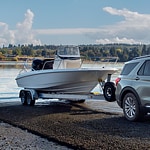 Ford Explorer has a ton of outstanding performance features to its credit. Tech, safety, power, handling and great looks complete its winning profile. It's hard for drivers, critics and even members of our Hawkeye Ford Inc team to choose just one or two of Explorer's best performance features. However, here are two for the road.
Winning Traction for All Terrain
Traction and grip are essential for stability on busy or icy roads. Explorer is equipped with rear wheel drive (RWD), an architecture that places the engine and drivetrain directly over the rear wheels. This architecture yields enhanced traction for outstanding off-road capability, impressive towing and a tight, sporty silhouette.
Champion Towing Power
On top of RWD, there's Explorer's towing capacity of 5,600 pounds. It reflects Explorer's ingenious design and its even more brilliant engine, the EcoBoost. EcoBoost is a combination of direct fuel injection and turbocharging, a combination that blasts out the kind of high horsepower and beastly torque that make it a cinch to tow tons.
Take your place behind the Ford Explorer steering wheel during a test drive at our Red Oak dealership today.